My activity didn't go as planned last week. Um..I walked twice and went to yoga once. I'm super excited about the yoga class however. I found my favorite teacher ever. She wasn't really missing, the studio she worked at closed, and then another reopened, then closed and now another studio has opened. It's all in the same spot, but I just realized that there was another studio there and she was teaching. I found my Saturday morning funday. Too bad, I have stuff going on for the next month of Saturday's. I was however sore, a good sore this morning, and that made me happy.
I stuck pretty much to my menu for the week, and I just have to say, it is so nice to know what's for dinner before you get home. It's especially nice when dinner is prepared and I have to do is stick it in the oven when I get home. My co-workers couldn't believe that I planned a week of meals out ahead of time.
I did have pizza twice, once my brother and sister in law brought over after chemo and then again last night at my parent's house with my brother and sister in law and the kiddos.
Yesterday, I went with B and the boys to an open house with lots of big equipment
Quinn taking a break
Peyter eating cake at Auntie's for Daddy's birthday
This week...
Sunday: Shepherd's pie and broccoli (Travey requested). It's super simple, ground beef, browned with some onions, frozen corn, mashed potatoes (from Dad's garden) and backed for about 30 minutes. I put ketchup on it, Travey puts gravy.
Monday: We are going to dinner with the family and friends for Nortie's birthday
Tuesday: Black bean quesadillas with avacado
Wednesday: Homemade pizza, probably pepperoni, sweet peppers, and red onion (yes, I could eat pizza every night, and probably for breakfast too).
Thursday: Meatloaf and some kind of potatoes. Dad is coming for dinner as mom is going to be gone again for work
Friday, Saturday, Sunday: Out to dinner, big plans for the weekend!!
My goal is to walk at least twice this week, three would be better.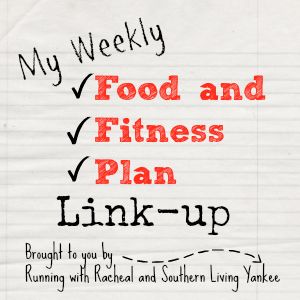 Linking up with Rachel