I'm linking up with Rachael to plan my meals for the week and try to get some fitness in too.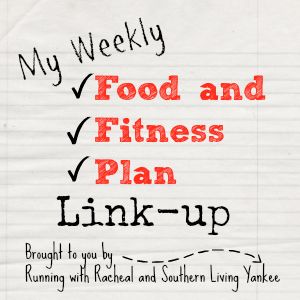 I find if I plan our meals for the week, things go smoother.
1. I usually have everything I need to make the food.
2. It makes grocery shopping much easier, I'm not wandering aimlessly up and down the aisles trying to decide what to make. Then when I get home, I wonder why did I buy pasta when we have 4 boxes.
3. I have a list and I buy from my list.
4. If I know I'm going to be late or Travey is going to be gone, I can plan an easier meal or just have cereal.
I've been doing fairly well at planning my meals, but this is my first link up. I'm also trying to find the best day to grocery shop. FYI grocery shopping is my least favorite chore (well besides dusting).
My other plan is to make 2 meals on Sunday, one for Sunday and one for Monday as I usually have a blood test on Monday and it's staff meeting day (the first Monday), so if I have something ready and just have to stick it in the oven, life is easier.
Sunday: Out to breakfast at 3 Squares, I had an awesome omelet with bacon, cheese and grilled veggies, and Travey had the eggs Benedict special that he thought was ok
Dinner: Old Fashioned Beef Stew I used local beef from Triple K Farm (my meat CSA), and the carrots and potatoes were from my parent's garden
Also we had beer bread, yummy (I used Labatts because that's what we had)
Monday: Burgers on the grill again ground beef from my meat CSA and macaroni and cheese. No recipe, I make it up as I go, lots of Cabot sharp cheddar cheese, a little Cabot sour cream, some milk, flour and butter. I made the mac and cheese tonight so it's ready to be baked tomorrow night. Dad is coming for dinner tomorrow as Mom is gone for work. I volunteer to feed him, he works a few miles from my house.
Tuesday: Steak fajitas, steak from CSA, with peppers (from dad's garden) and onions, sour cream, cheese and salsa. My parent's make their own salsa but it's too HOT for me. Dad said he'd make me some chunky mild.
Wednesday: Surprise, Beth is picking up dinner and driving me home from chemo
Thursday: Left overs
Friday: Book club, I'll eat snacks there
I usually don't plan for Saturday, sometimes we go out, I know Travey is going to be gone all day, so I'll be on my own for dinner, probably peanut butter cheerios!!
I plan to walk (with a little running faster walking thrown in) on Tuesday, Thursday, Friday and Saturday.